A wedding anniversary celebrates moments from many years of marital "bliss": homes and travel, family and work, grandchildren and play. For richer for poorer. For better or worse. This milestone in the marriage is worth a special party to bring together many of the people who's lives have been touched by this marriage.
So whether you celebrate with a dinner at home for extended family, or decide to hold a big bash at a local reception hall, complete your planning with special touches.
Begin with an invitation to set the mood. Be sure to include on the invitation information about any projects that you wish your guests to contribute to, response information, and your preference for attire. You want to send these out 4-6 weeks prior to the party.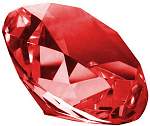 Rubies rule for 40th anniversary celebrations so fill the room with bold an energetic red.
Red Napkins
Ruby paperweights for the tables
Red confetti to scatter
Maybe a red velvet cake for dessert!
Perhaps you could crown the king and queen of the evening. Complete the coronation with robes and scepters!

Definitely include music from the era to dance to, including a favorite song for the first dance.
You may want to set up a memory table with the wedding invitation, wedding photos, photos family events and vacations and of the couple through the years. Perhaps the actual wedding dress or cake topper is available to show.
And be sure to prepare a special toast, and ask others to contribute comments during the evening. Here is a lovely, short toast we found on freeweddingtoasts.net:
"To (Husband) and (Wife) who have taught us the true meanings of devotion, commitment, and love. Thank you for the example you have given to each one of us about how to make a marriage last. We raise our glass to you as you celebrate a lifetime together. May your love carry you for another 50 years!"